Self-care is vital to well-being and spas are a great help. We are all worn down after the last year and anxiety is ramping up as people are being summoned back to the workplace. 
The good news is, you don't have to travel to find new treatments and places to wind down. Help is right here. 
You want – Recovery
This independent spa group is doubling down on helping us all get some rest. At the Urban Spa in Jumeirah's The Village, we tried a 90-minute treatment that will either help you catch up on your sleep  or send you home straight to the Land of Nod. The Sleep E-zzz is easily one of the most relaxing treatments we've ever had the pleasure of trying. There is no muscle kneading here: just soft, slow full-body strokes by a deft massage hand, relaxation boosted by the addition of delta wave binaural beats, which are designed to train your brain waves into a more chilled-out state. (If this sounds too far-fetched to be true, note that any relaxation effect may be a placebo that feels very real).
Sensasia has also introduced Hydrate & Sculpt, a facial and massage powered by Vitamin C and magnesium, as well as a Deep Magnesium Recovery Massage, which promotes rapid, therapeutic recovery from pain and stress. Spa owner Salina Handa explains why she has gone all-in on magnesium in new treatments: "Up to 80 percent of us are lacking in magnesium, which is critical for ridding the body of toxins, absorbing essential nutrients and avoiding that sluggish, stressed and often irritable state that I think so many of us have come to accept as normal."
You want – Glowing skin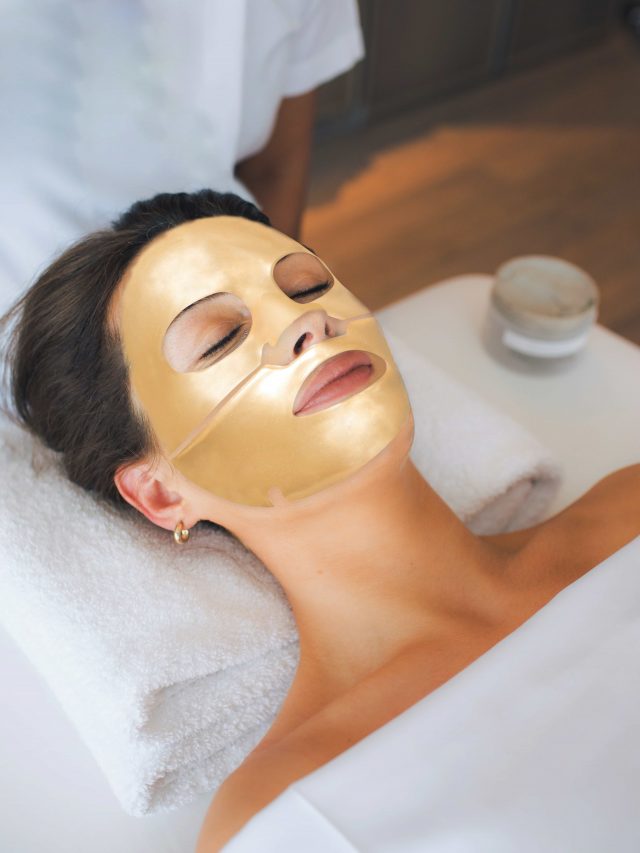 Marvel superhero meets relaxation with this new Abu Dhabi facial treatment. First you get a bit of sound healing vibration, then follow a therapist down the amber-lit interiors of The Abu Dhabi Edition Hotel spa for some gentle cocooning between a cool sheet and a heated bed. 
Superhero action starts when the therapist, after administering various scrubs and gentle facial cleansing, applies the new Knesko Nanogold Repair Mask. True to its name, this luxurious mask is shiny, gold and covers everything except the eyes. It's meant to repair and hydrate the skin, all while activating the 'third eye chakra' –' that spot located in the center of your head, parallel to the middle of your eyebrows, which is believed to be linked to perception, awareness and spiritual communication. As the mask soaks into the skin, the therapist gives you a head massage and hand massage. 
The result is incredibly moisturized skin coupled with extreme relaxation – because even superheroes need down time. 
You want – Inner healing
With a roster that includes things like 'light language activation' and 'new moon cacao ceremony', Seva Experience has a range of unique and ever-changing treatments. Their sound healing is particularly memorable. This 60-minute session starts with a gong then flows into 10 minutes of guided meditation. Next comes a series of Tibetan singing bowls and other instruments, played as guests lie on individual pallets with eyes closed. The vibrations are designed to balance energies. 
It's impossible to talk about Seva without mentioning it's incredible vegan indoor-outdoor cafe, Seva Table. Guests sit on pillows in the garden, eating plates of charcoal hummus and massaged kale salads. The menus proudly note that there's no GMO, no dairy and no WIFI. 
You want – Great views
For relaxation with additional sky views, the newly-opened The Spa is perfect. At 75 floors high, it's the highest spa in Dubai and offers more than 20 treatments covering the usual – massages, facials – with a dash of the more holistic, such as reflexology. 
For something truly out of the ordinary, book into the Gharieni massage bed, which sends sound waves up through the body  to tap into the brain, organ and energy centers in order to facilitate deeper healing. We can't verify it, but the sounds are relaxing. 
You want – Luxurious unwinding
While the Pearl Spa Signature Massage has long been offered in Four Seasons establishments, it has recently been extended into the brand's UAE hotels (Four Seasons Hotel Dubai DIFC, Four Seasons Jumeirah Beach and Four Seasons Abu Dhabi). 
As a Covid safety precaution, guests at Four Seasons Jumeirah Beach are led past the changing rooms straight to the treatment room. The massage is as high quality as you'd expect from Four Seasons and uses oils inspired by the UAE (frangipani with lavender, mint with black pepper). The bed is gently heated and the therapist is incredible. Afterwards guests are shown to shaded outdoor seating in dappled shade and given granola bars and pea protein balls, all in Covid-friendly packaging.
It's worth arriving  for your treatment at least 30 minutes early as there is a hidden indoor 140 square-meter pool, framed by white columns. 
You want – To stay home
Treatments by the newly opened Privee Dubai are not as fancy as some of the others on this list. There's no gorgeous hotel or bohemian cafe to go to afterwards. But the group offers professional home massages at an affordable price (Dh250). The beds are soft, the linens clean, and the staff even spray lemongrass scent in the air before switching on serene tunes. 
You want – More help sleeping
If a power nap is your idea of a party, this is the treatment for you. Park Hyatt has rolled out a whole new menu of offerings that combine nature, science and technology, including one that promises to give you great sleep. 
The Spa Wave System treatment uses sounds and vibrations to 'train your brain to relax' as you're lying down. It's touch-less,  although there are packages that combine massage with the audio vibration. The sound  frequencies are meant to balance chakras.
Danae Mercer is a freelance health and travel journalist and globally recognized influencer and leader in the body acceptance movement.