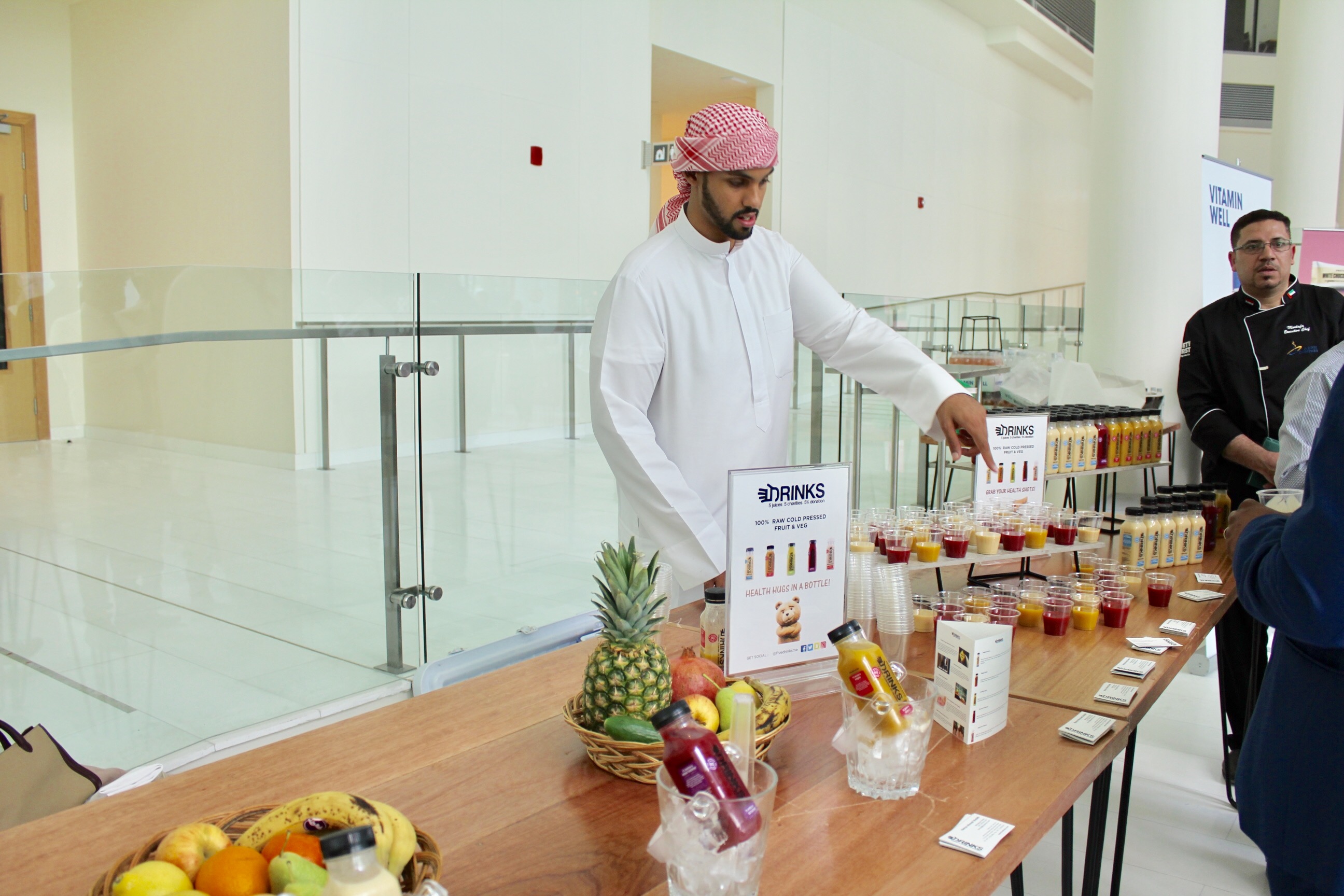 Five fresh flavors, five charities, a five percent donation per bottle: That's the concept behind 5Drinks.The company was launched earlier this year by Hamza Ahmed Sheikh, a 27-year-old Kenya-born international business school graduate who knew he wanted to start a company that offered the cold-pressed juices he loved, and to give back while doing it.
He was introduced to the UAE through friends he met while studying at Sussex University in England and, after a year-long detour learning conversational Arabic in Egypt, arrived 18 months ago to set up in the capital.
His love of cold-pressed juice began in university, when, keen to incorporate fruits and vegetables into his diet but not overly fond of eating them, he splurged on the UK's Savse Smoothies brand.
"It was pricey in the UK," he said. "And I wasn't on a big budget, but it was worth it. I liked that there was no added sugar. I loved that I was drinking a lot more nutrition."
Produced in the Netherlands, a major manufacturing center for the Europe's cold-pressed juice market, 5Drinks juices are shipped the same day they are bottled, in flavor combinations it calls Tropical-Coconut, Mango Passion and Beetroot-Pomegranate. Each 250ml bottle has no added sugar, 142 calories and sells for Dh15.
"We wanted delicious and healthy," Sheikh said. "A lot of times there is a compromise between delicious and healthy."
And why cold-pressed? As Sheikh explained it, regular juices, even if gently pasteurized, are cooked to 74 degrees centigrade to kill any bacteria – but the process also reduces the nutritional value. Instead, the process of cold-pressing simply inactivates the bacteria for four to five days, keeping all the vitamins and minerals intact.
"Because we don't use any heat to kill the nutrients, the nutrients are intact," he said. "So we don't need to add anything."
So far, so good. Sheikh has already signed a deal with the largest catering company in the UAE, the Abu Dhabi National Hotels' ADNH Compass, and is in talks with grocery stores and a coffee chain. 
Although in the Gulf region the cold-pressed juice industry is still new, internationally it has exploded, growing by 58 per cent since 2004 to an estimated value of US$100 million (Dh367m) last year. Industry estimates put future growth at between 7.2 and 10 percent each year by 2022, driven by people in millennial age group.
There is, however, a growing cold-press juice backlash in North America, where some leading health experts warn that consumers miss out on valuable nutrients and fiber by not eating whole vegetables.
Sheikh just wants to offer an alternative with 5Drinks, because he knows first-hand how hard it can be to eat one serving of fruit or vegetables, let alone the recommended five a day, particularly in the face of constant temptation.
"We're just trying to make it a bit easier for people to be healthy," he said.
As focused as he is on the nutritional value of his product, Sheikh has been equally committed to the charity aspect of the business from the outset. While teaching at a poor school in Kisumu, a city outside Nairobi, he was struck by how resourceful the students and their families were, reusing everything, doing so much with so little, and how even the smallest amount of outside assistance created compound results.
"Their education doesn't cost a lot," he said. "So they just need maybe uniforms, some food. Things like that. And they go on and they excel. Once the older sister goes to school and does well for herself, she supports her brothers and sisters. So if you pull one person out of poverty, it's like pulling six, seven, eight people. It's a ripple effect."
Each 5Drinks flavor is paired with a cause: education, road safety, hunger and poverty prevention and cancer treatment. Some of the money will flow outside the UAE, particularly to education in Africa, where Sheikh has experience. When it comes to road safety, the focus will be local, with funds either supporting workers and low-income residents who have been in accidents, or to help raise awareness.
Sheikh, who has added several investors and just one full-time employee since arriving, has already identified five individuals to assist in each area and hopes to funnel the first donations to them this summer. The charity aspect will be a regular feature on the company's social media channels. 
"We need to be fully transparent," he said.
Look for 5Drinks at Circle K, Abela, FMart, YogaOne and New York University Abu Dhabi. Same-day home delivery is also available on orders placed before noon.
Instagram: @fivedrinksme
Ann Marie McQueen
Ann Marie McQueen is the founding editor-in-chief of Livehealthy and host of The Livehealthy Podcast. She is a veteran Canadian digital journalist who has worked in North America and the Middle East. Her past roles include features editor for The National, trends writer and columnist for the Canadian newspaper chain Sun Media, and correspondent for CBC Radio.