Shop with a conscience this festive season and treat your loved ones to Christmas gifts that make it easier for them to care for their own health and wellbeing, as well as the world around them. 
SQUATWOLF fitness apparel  
Edgy, cool and almost too beautiful to work up a proper sweat in, SQUATWOLF's outfits are so gorgeous they might even motivate your most gym-averse friends to get back into a fitness routine. Designed for studio sessions and outdoor runs and hikes, the new CODE collection has a refreshingly casual and urban feel. But this brand isn't just a fashion statement, offering quick-dry fabrics that are essential for the UAE's balmy climate. The swish Recycled Mesh Tee is made from repurposed fabric that's been upgraded for maximum performance. Both the men's and women's ranges are equally slick. 
@squatwolf.
BUDZY yoga mats  
Even though lots of us use yoga mats on a daily basis, splashing out an expensive one for yourself can seem a bit over indulgent. This makes them the most amazing Christmas gift for any health fan, and the ultra-stylish mats from BUDZY are guaranteed to make every yogi the envy of their studio. Flawlessly fusing fashion and sustainability, they're made from ethically sourced rubber and contain no toxic chemicals. Founded in Dubai and available in nine totally unique and eye-catching designs such as leopard print and star constellations, they make every down dog and vinyasa feel extra special.
Dh397 @budzymats.
State of REM Loungewear
Spoil someone rotten with this made-in-the-UAE sustainable lifestyle brand that makes luxury silk sleepwear and accessories, which can be dressed up to wear out or relaxed in at home. Minimalist and feminine, the first Gratitude Collection features three timeless colors and different styles. From Dh850 @StateofREM 
Eco Lips organic lip balm 
Is it actually possible to have too many lip balms? We don't think so. This festive lip-smacking wonder from Eco Lips is the perfect cute stocking filler. Made to look like a festive candy cane and flavored with refreshing peppermint and soothing vanilla, it leaves your lips feeling smooth, soft and pleasantly tingly. The tube is totally plant-based and plastic free, while the organic balm is made with certified organic beeswax and hydrating Fair Trade Certified™ coconut oil. Sold in sets of three, they're easy to split between your most eco-friendly loved ones. 
Dh37 @ecolips.
Flothetta floating pillows 
Thanks to the genius innovators at Flothetta, we now have a new way of putting our weekend sunbathing sessions to good use. Its floatation pillow is ideally suited to the expat lifestyle, letting you sink deep into a state of relaxation while absorbing some welcome vitamin D. Water therapy can ease tension in your bones, rejuvenate tired muscles and reach a meditative state. So, if you know someone who loves a pool day but also needs to learn to switch off and let their body recover, look no further than this revolutionary Icelandic product. 
D199 @flothetta. 
Assouline's Formula 1 book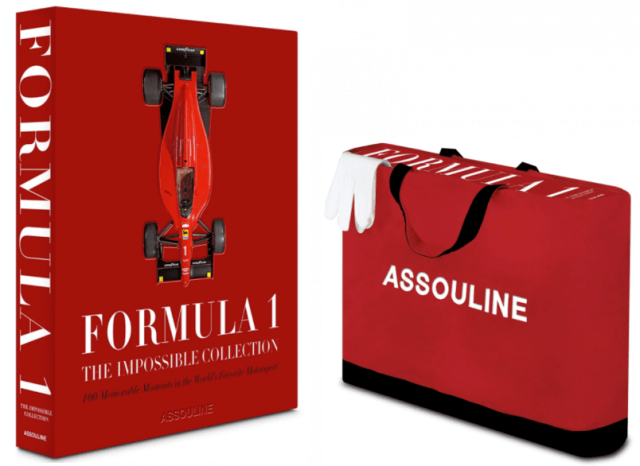 This beautiful book from Assouline is a work of art in itself, coming in a clamshell case with a metal plaque and presented in a red canvas tote bag. Selected by veteran F1 journalist Brad Spurgeon, Formula 1: The Impossible Collection chronicles the milestones that lifted Formula One to a global sport with hundreds of millions of fans around the world. Dh4,200 @infinitylumieres
Martyne Swimwear's vegan range 
If you think vegan swimwear sounds like it might be a bit hippy and dowdy, then you clearly haven't seen Dubai's first vegan brand, Martyne Swimwear. Made from head-turning vegan leather that's cleverly crafted from discarded fishing nets, carpet flooring, industrial plastic and fabric scraps, all the bold yet tasteful swimsuits are incredibly comfortable and designed to flatter all body shapes. 
Dh399 @martyne_swim
 
SENSASIA IV Drip Therapies & Wellness Infusions 
Powered by Skin111 Clinic, these personalized IV infusions are conducted by a trained medical practitioner, they are built around each individual's needs and aim to rectify any deficiencies. They also aren't a sterile medical procedure, coming with a massage, facial or body treatment, and offered in energy boosting, detoxifying or anti-aging varieties. The fact that one is called 'Above All Clouds' kind of gives you an idea of what an otherworldly experience this is. 
From AED 996. Emirates Golf Club, and other locations. @sensasia_urban_spa
Spinneys Dubai 92 Cycle Challenge
Have a cycling fanatic on your gift list? Order a piece from the new Ciovita cycling range for the upcoming 2022 Spinneys Dubai 92 Cycle Challenge and have it ready to collect prior to the February 18, 2022, race.
The kit range features a cycling top, as well as Casquette hats, sunsleeves and trucker caps, all embroidered with the year's new logos in the emerald green and sleek black design. Event jerseys are Dh295 via
Cyclechallenge.ae
The Herbal Thymes Christmas boxes  
New Abu Dhabi-based business The Herbal Thymes is already making waves with its extensive and unique collection of organic herbs, the likes of which can be found nowhere else in the UAE. Passionate about promoting natural remedies, it stocks all kinds of rare and wonderful organic dried plants and flowers. This includes marshmallow root (great for colds), hawthorn berries (for cardiovascular health), willow bark (for pain relief) and many more. The company has also branched out into producing handmade, ethical and all-natural beauty products that smell and feel amazing. The lovingly packaged Christmas boxes provide a mix of the best-selling teas, bath fizzes, salts, lip balms and lavender tubes, and have been a big hit at this month's festive markets. Delivery is free for all Christmas orders across the UAE, so now is an excellent time to stock up on both your gift and herb supplies. 
Dh170 for The Essentials Box. @theherbalthymes. 
Valeo wellbeing app
Many people go through life without ever really working out what it is that makes them feel occasionally bloated or uncomfortable. But now, thanks to Valeo, you can complete a comprehensive food intolerance test all from the comfort of your own home. Packaged in a handy app, it includes an at-home blood test, personalized diet plan and a free 15-minute session with one of Valeo's qualified health coaches. Without sounding too dramatic, this is the kind of present that could literally change someone's life. Simple and quick to use, it gives all the benefits of an in-clinic test, but for about half the price. The lucky recipient will be thanking you forever.
Dh999. @valeo.feelyourbest. 
Harriet Shephard
Harriet Shephard is an Abu Dhabi-based copywriter and freelance journalist with a particular focus on fitness, travel and lifestyle, which, along with good food, also happen to be her main passions when she's not typing away at her laptop.